It's not just about reducing your carbon footprint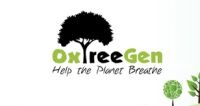 Tree planting represents an innovative way for individuals and organisations to reduce the size of their carbon footprint. By partnering with OxTreeGen we will create a Living Legacy Woodland in the heart of England.
The Living Legacy Woodland may be a place of rememberance for some, a place of celebration for others. The trees OxTreeGen plant will be easily recognisable by the pink guards protecting them as they grow to form a pink ribbon shaped walkway through the woodland.
Supporting our research
OxTreeGen Tree Dedication Gift Cards can be purchased through their online shop and via a growing list of from major retail chains. The Gift Cards and packs retail for £10 each, from which £2.13 will be donated to Against Breast Cancer.
Once purchased, the recipient may choose to register their tree on the OxTreeGen website, entering their own name or that of someone they wish to commemorate.
A personalised certificate with your tree details will be sent direct to you which will include the plot reference of the tree.
Should you choose, you will also receive updates about the tree from OxTreeGen and will receive a quarterly newsletter for the first 3 years of the trees life.
Planting your Tree
You can choose to plant your own tree or watch it being planted. It may also be permitted to scatter ashes of a loved one at the base of the new tree as it is being planted.
The trees will be a mixture of Oak, Birch, Field Maple and Ash and a map on the OxTreeGen website shows the plot numbers of the trees marked.
Other ways to recycle for research